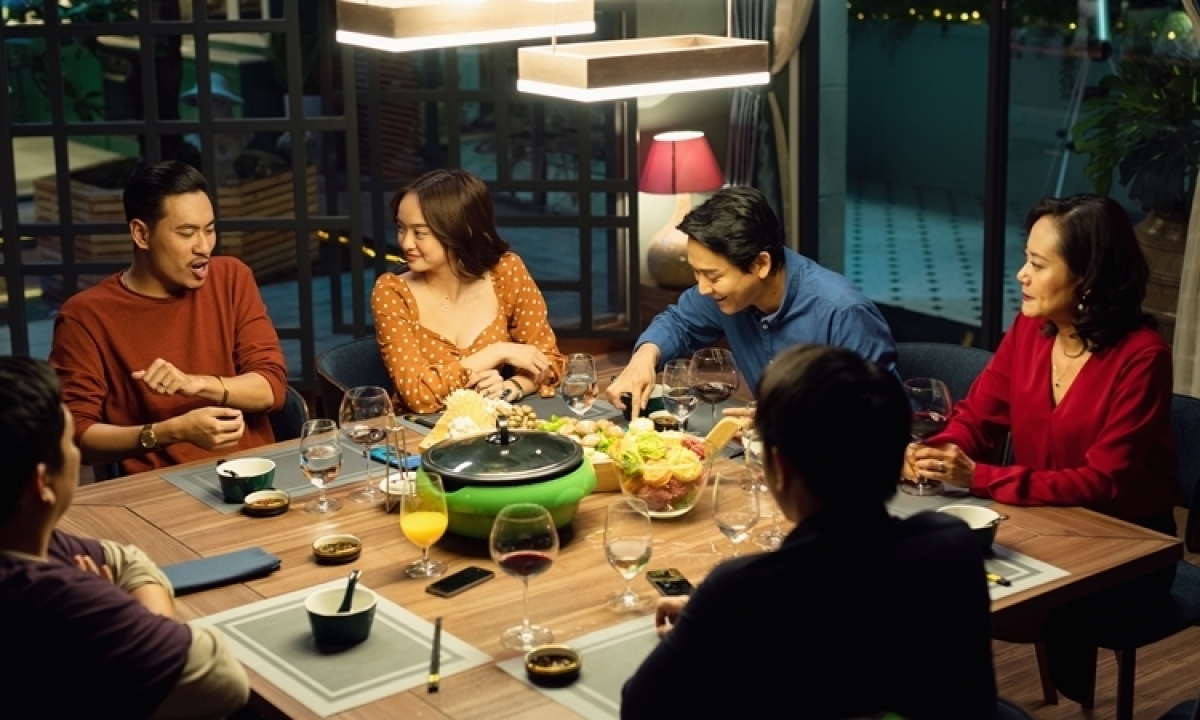 A turbulent 2020
Global outbreaks of COVID-19 ensured 2020 was a challenging period for the local film industry.
Many cinemas were forced to close for a long time, although some were allowed to open in line with the government's social distancing measures. These difficulties caused both the number of new movies produced and revenue to decline sharply.
Last year saw only 22 Vietnamese movies released to audiences, a decline of half in comparison to previous years when 40 to 45 movies were produced each year. New movies mainly came out around the Lunar New Year holiday, known locally as Tet, due to the COVID-19 pandemic being controlled and social distancing measures not yet enforced.
Despite difficulties last year saw a number of movies with good quality enjoy high revenue. "Gái già lắm chiêu 3", "The Royal Bride" in English, by director Nam Cito and Bao Nhan were among the favourites and had a revenue of more than VND165 billion. The movie also won the Golden Kite awards in May, 2020, due to its quality.
"Tiệc trăng máu" (Blood Moon Party), by director Nguyen Quang Dung and film producer Phan Gia Nhat Linh was introduced to audiences in late October, 2020, after the second spell of social distancing measures were lifted. It attracted two million punters in a short space of time and quickly earned VND167 billion, becoming a blockbuster for the Vietnamese film industry last year.
Other successful movies include "Ròm" by director Tran Thanh Huy which enjoy a revenue of VND60 billion with its theme of difficulties faced by poor people in urban areas and the underprivileged children, drawing the public's attention to the issue.
New hope ahead in 2021
In previous years the revenue of Vietnamese movies reached a high peak, including VND171 billion for "Em chưa 18", "Jailbait", VND180 billion for "Mắt biếc" (Dreamy Eyes), VND191.8 billion for "Cua lại vợ bầu" (Win My Baby Back), and VND200 billion for "Hai Phượng" ,"Furie".
These figures are far high than films released in 2020, with "Gái già lắm chiêu 3", "The Royal Bride", pocketing VND165 billion in local ticket sales, and "Ròm" earning a revenue of VND60 billion. 
According to statistics compiled by Box Office Vietnam, a prestigious Vietnamese independent film revenue statistics site, some films with bad quality only earned VND1 billion to VND2 billion.
For example, "Võ sinh đại chiến" (Martial Arts Students' Great War) had a production cost of VND25 billion and was screened in late 2020. Despite it being screened during the New Year holiday, the movie earned VND1.4 billion after six days, representing a sharp loss.
This comes after "Người cần quên phải nhớ" (People Need To Forget Must Remember) made VND1.9 billion from ticket sales. According to producer Charlie Nguyen the film suffered a loss of US$1 million.
Last year also saw the release of a few bad-quality pieces, such as "Sắc Đẹp Dối Trá", "The Drama Queen" which had no focus and involved a myriad of themes including transgender, beauty contests, and pursuits.
"Bí mật đảo Linh Xà" (The secret of Linh Xa Island) featured bad cinematic technique and unattractive content, whilst "Tiền nhiều để làm gì?" (What is a lot of money for?) was made up of a series of comedies with no interesting action for viewers.
Poly, a longtime film producer, said that after a period of coping with the COVID-19 pandemic, the situation of the local film industry will be clearly divided when cinemas nationwide open.
Audiences tend to pay close attention to the content of films, so movies with good quality, and good show times will be well received, whilst bad movies will be bluntly criticised on social networks.
Indeed, a movie that enjoys a high revenue, or alternatively suffers from heavy losses, will ultimately be decided by the media and public opinions expressed on social media.