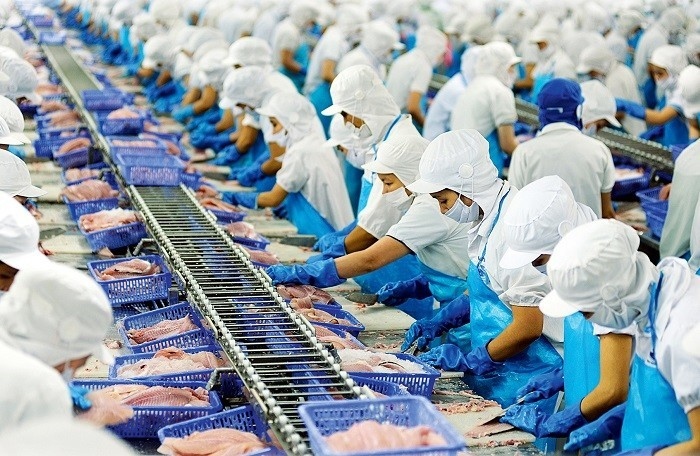 Seafood exports to key Vietnamese markets such as the EU, the United States, China, the Republic of Korea, and Japan, suffered from the negative impact of the epidemic during the first and second quarters of 2020, declining 10% and 7%, respectively, compared to the same periods from last year. Only the US and Chinese markets maintained positive growth, rising 13% and 5%, respectively.
The Association of Seafood Exporters and Producers (VASEP) said seafood exports began to witness a recovery during the closing months of the year, achieving a growth rate of between 10% and 13%. Statistics show seafood exports during the past 11 months reached US$7.8 billion, and the figure for the entire year is expected to hit US$8.58 billion, matching last year's figure.
Shrimp exports for instance saw robust growth, with 11-month exports increasing by 14% to approximately US$3.5 billion against the same period from last year. Shrimp processors expected to rake in over US$3.85 billion from exports this year, a rise of 15% compared to 2019.
However, the VASEP believes that the fisheries sector will continue to encounter an array of difficulties moving into next year due to consumption trends in COVID-19 affected markets expected to see changes. In line with this, there will be a reduction in consumption at restaurants and hotels despite an increase in consumption at supermarkets and retail outlets.
Moreover, the COVID-19 pandemic has severely disrupted global supply chains, making it difficult for the seafood sector to ship its key products such as shrimp and pangasius abroad, leading to high inventories at cold storage systems.
Despite the COVID-19 epidemic brought under control, it has adversely affected the domestic labour market as workers at seafood processing factories were laid off, coupled with rising costs in the production chain and freight costs. Additionally, a number of businesses either faced financial shortages or slipped into bank debts.
Meanwhile, technical barriers such as anti-dumping tax on shrimp and pangasius in the US market are projected to show no signs of being removed over the course of the following five years.
In line with this, import markets tend to pay close attention to food safety and hygiene requirements, origin traceability, sustainable production procedures, as well as standards of labour and social security.
Tran Dinh Luan, director general of the Directorate of Fisheries, said local authorities and Vietnamese fishermen and businesses have made great strides in combating acts of illegal, unreported, and unregulated fishing (IUU) based on the European Council's (EC) recommendations. This has served to pave the way to make the most out of opportunities brought about by the enforcement of the EU-Vietnam Free Trade Agreement (EVFTA).
Luan revealed that future moves by the Government will largely focus on restructuring the local fisheries sector, with the aim of grossing an export value of between US$18 and US$20 billion by 2030. Indeed, these efforts will generate jobs for 3.5 million workers and contribute 30% of GDP to the agriculture-forestry-fishery sector.