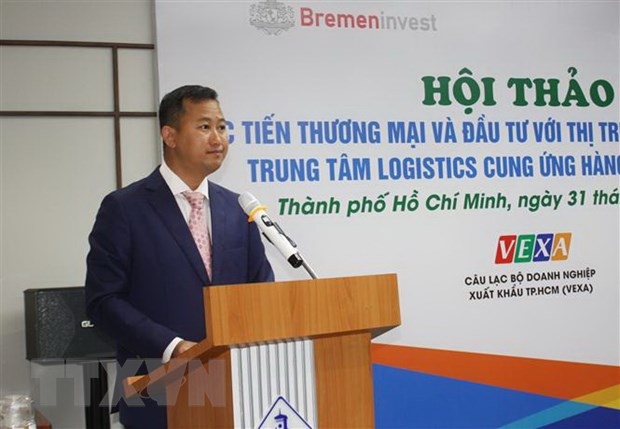 During the course of the seminar, Tran Phu Lu, deputy director of the Investment & Trade Promotion Centre (ITPC) of Ho Chi Minh City, said recent years has seen the country's ties with Germany develop in an extensive and effective manner.
Most notably, two-way trade turnover since 2010 has doubled to reach over US$10 billion, with an average growth rate of over 10% annually.
Despite facing the adverse range of impacts caused by the novel coronavirus (COVID-19) epidemic, joint import and export turnover stood at an estimated US$1.5 billion, a rise of 5% compared to the same period from last year.
At present, the Central European nation ranks 18th among countries and territories investing in the Vietnamese market, with 361 projects worth US$2 billion being implemented in the fields of engineering, machinery manufacturing, logistics, chemicals, and renewable energy.
Furthermore, the nation also has 35 investment projects in Germany with a value of more than US$250 million, particularly in the fields of finance, banking, informatics, restaurants, and hotels.
Recent times has seen Germany become a major partner for Ho Chi Minh City, with several key investment projects in the southern city such as Metro Line 2, the Vietnam-Germany University, and the German International School.
Hoang Thi Huong, chief representative of the BremenInvest office in Ho Chi Minh City, emphasized that the German city of Bremen plays an important role in the maritime industries of Europe, adding that the city is also the leading industrial German centre. 
Nguyen Thi Hao Hoa, international sales manager of Karl Gross Logistics Group, said that due to its favourable geographical location, Bremen has become the fourth largest container trading port in Europe and is capable of receiving a large volume of cargo. One of Bremen's key advantages is possessing a highly developed logistics warehouse infrastructure.
Hoa therefore analysed that due to these conditions, Vietnamese enterprises are keen on stepping up  investment and trade activities with Bremen as they will be provided with specialised logistics solutions.
Vu Hoang Nam, director of NPT International Supply GmbH, said that although business investment procedures in Bremen and Germany remain complicated, local firms can easily register online with the enthusiastic support of local authorities.
Despite having great potential for Vietnamese enterprises to invest in, experts advised firms to pay close attention to the high technology content in their products and services, environmental factors, and consumer health when choosing fields of business within Bremen.