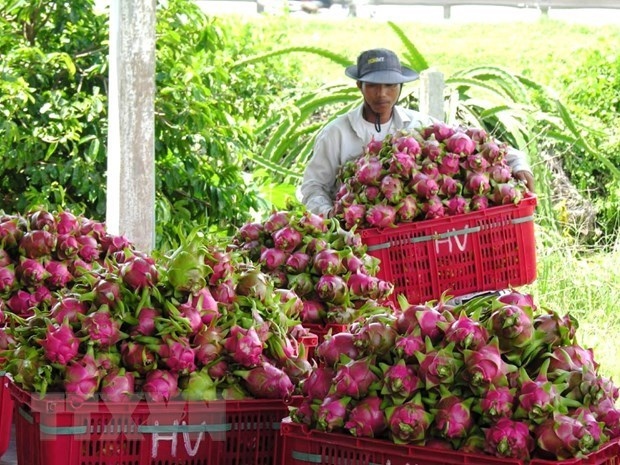 According to the ministry, agro-forestry-fisheries export revenues reached 3.72 billion USD in November, raising the total revenue in the first 11 months of this year to 37.42 billion USD, up 2.4 % over the same period of 2019.
Meanwhile, the country imported about 28.05 billion USD worth of agro-forestry-fisheries products in the period, resulting in a surplus of nearly 9.37 billion USD, up 10.9 % year on year.
Specifically, export earnings of major farm produce were 16.76 billion USD, a drop of 0.5 %, while that of livestock reached 297 million USD, a fall of 18.5 %, fisheries nearly 7.75 billion USD, down 0.9 %, and forestry products 11.65 billion USD, up 15 % year on year.
In November, Vietnam shipped abroad 388,000 tonnes of rice for 207 million USD, raising the total rice export volume to 5.74 million tonnes, a fall of 2.2 %, and value of 2.85 billion USD, up 10 % year on year.
The Philippines was the largest market of Vietnamese rice with 33 % of the total market share. Upturn was also seen in shipments to other markets such as Indonesia and China.

Meanwhile, the export value of wood and wooden furniture hit 1.1 billion USD in November, pushing the 11-month figure to 10.88 billion USD, up 14.1 % compared to the same period last year. The US, Japan and China remained the three major markets in the period.
On the contrary, many farm produce suffered reduction in exports, including pepper corn with 11.4 %, and fruit and vegetable 11.7 % due to a strong decline in the Chinese market.
At the same time, fisheries export recorded slight decrease of 0.9 % to 7.75 billion USD. The US, Japan, China and the Republic of Korea were the leading markets for the products.

To facilitate agro-forestry-fisheries exports, Nguyen Van Viet, head of the MARD's Department of Planning, said that the ministry will coordinate with localities and trade associations as well as businesses to keep a close watch on the market development and seek solutions to remove difficulties of exporters in market, while stabilizing the supply for the year-end occasions.

The ministry will also work with relevant parties to implement measures to balance the trade and tackle difficulties in trade for exporters.
Along with updating businesses on policies of markets, especially the EU, China, the US, Japan and the Republic of Korea, the ministry will hold an online meeting with the General Customs of China to discuss measures to further open the market of both sides, and to facilitate quick customs clearance in border gates between the two countries.