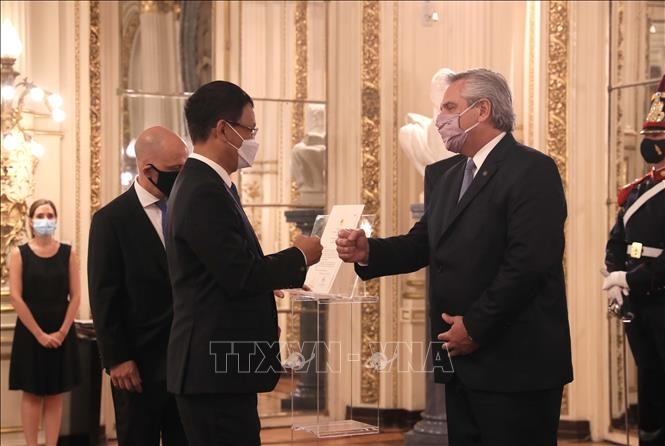 While receiving newly accredited Vietnamese ambassador Duong Quoc Thanh in Buenos Aires on March 2, President Fernandez spoke highly of the economic development achievements Vietnam has made over the past years, and said Vietnam has set an exemplary role model for other countries to follow suit regarding the fight against COVID-19.
He welcomed Thanh to Argentina in his capacity as the Vietnamese ambassador and expected the diplomat would make a positive contribution to the fine development of the Argentina-Vietnam ties.
Vietnam is one of Argentina's important partners in Asia-Pacific, said the Argentinian leader, who also expressed his belief the comprehensive relationship between the two countries will be further developed in the future.
Presenting his credentials to the Argentinian leader, ambassador Thanh conveyed Vietnamese Party General Secretary and State President Nguyen Phu Trong's best regards to President Fernandez, his wife and the government and people of Argentina.
He affirmed he will do his best to promote the friendly relationship and cooperation between the two countries in politics, economics, culture, science and technology among other fields, to meet the expectations of the two governments and people.
Ambassador Thanh also informed his host of Vietnam's recent socio-economic development, as well as the results of the recently concluded 13th National Congress of the Communist Party of Vietnam which charted a new course for Vietnam's development in the coming years.