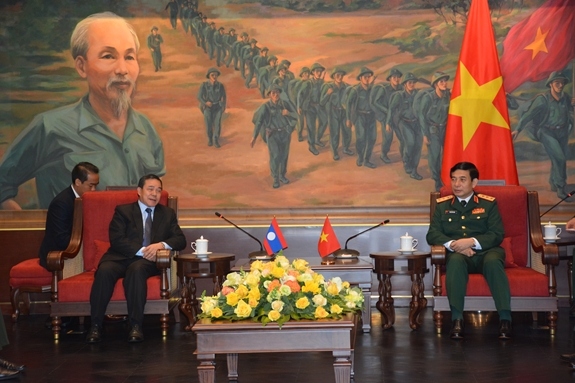 Receiving Lao ambassador  Sengphet Houngbuongnuang, Minister Giang affirmed the traditional friendship, special solidarity, comprehensive cooperation between the two Parties, States and armies of Vietnam and Laos has constantly developed in various fields over the years.
"Vietnam is always keen to work alongside Laos to promote their special relationship that has been cultivated by the two countries' senior leaders," Giang emphasized.
Ambassador Houngbuongnuang congratulated Giang on his appointment as Minister of National Defence of Vietnam at the recently-concluded National Assembly session, and expressed his belief the minister will continue to make a practical contribution to increasing bilateral cooperation.
Both host and guest agreed both sides increase reciprocal visits to foster cooperation, especially in national defence, in order to elevate their armies' position, and at the same time to facilitate socio-economic development and firmly defend each country's sovereignty and territorial integrity.
At a reception for Cambodian ambassador Chay Navuth, both sides highly valued the Vietnam-Cambodia defence cooperation, considering this a pillar in bilateral relations. They agreed to exchange delegations in the coming time to discuss strategic issues of common concern in defence cooperation between the two countries.
Giang took the occasion to extend his best wishes to the ambassador on the ongoing celebration of the Khmer's Chon Chnam Thmay, while commending the Cambodia government, army and people for their efforts in fighting the COVID-19 pandemic.
While receiving Russian ambassador Konstantin Vnukov, Defence Minister Phan Van Giang affirmed that Vietnam always treasures its traditional relationship with the Russian Federation and does its best to develop the comprehensive strategic partnership between the two countries, including defence cooperation.
Both host and guest expressed their delight at the defence cooperation between the two countries, saying the two Defence Ministries had worked closely to carry out activities within the framework of the Vietnam-Russia and Russia-Vietnam Cultural Year in 2020 in celebration of 70 years of bilateral diplomacy.
Currently, they said the two sides are preparing for the international Army Games 2021.