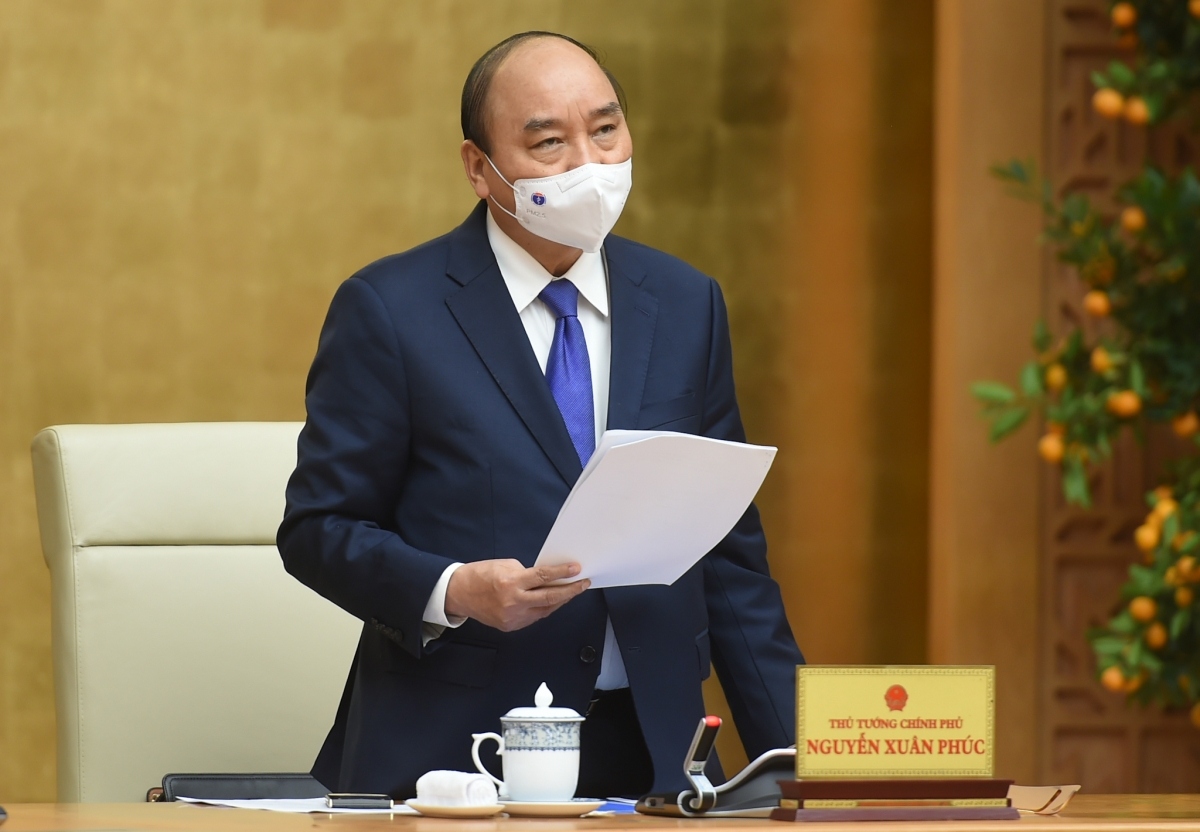 The PM stressed the need to quickly vaccinate priority groups of people as set out in a resolution recently issued by the Government.
"I request the Ministry of Health to carry out this important policy this week," PM Phuc said at a monthly regular Cabinet meeting for February held on March 2 in Hanoi.
The Government leader also asked that relevant ministries, agencies, and localities make adequate preparations, including devising the budget, for the inoculation programme that will ensure that every citizen gets access to the vaccine.
The recently-issued Government resolution details the groups of people most vulnerable to the virus, including frontline healthcare workers, soldiers, border guards, and police officers operating in areas impacted by the novel coronavirus (COVID-19) and quarantine facilities. Other priority groups include poor people and social policy beneficiaries.
Vietnam imported the first batch of AstraZeneca COVID-19 vaccine, numbering more than 117,000 doses, in late February.
The MoH is poised to offer the first round of jabs to priority groups in early March, although Health Minister Nguyen Thanh Long has stated that the immunisation drive may face a delay pending checks on the quality of the vaccine. 
The Ministry is currently collaborating alongside its counterpart from the Republic of Korea to evaluate the safety of the AstraZeneca vaccine.
During the Cabinet meeting, the PM also requested that provinces and local people remain highly vigilant to take steps against the SARS-CoV-2 virus, although the latest COVID-19 outbreak has been brought under control in affected localities.
The third wave of COVID-19 spread to 13 cities and provinces across the country following the reemergence of the virus in late January. In total, as many as 868 new cases were detected, including 676 cases in Hai Duong, the epicentre of the fresh outbreak.
Due to drastic anti-COVID-19 measures being put in place, including social distancing, rapid contact tracing, quarantining, and testing, the virus has largely been kept in check throughout 12 cities and provinces, with the exception of Hai Duong.
Furthermore, the number of local citizens illegally crossing the border from Cambodia, a nation hit by COVID-19 cases, has increased considerably over the past few days, providing a cause for concern due to the increased possibility of transmission of the virus among the community.
It is therefore necessary that alongside the vaccine, the 5K message should also be more heavily promoted, according to the PM.
The MoH has popularised the 5K message in Vietnamese in order to help citizens get used to living safely with the COVID-19 pandemic in the new normal. The 5K message stands for Khau trang, facemask, Khu khuan, disinfection, Khoang cach, distance, Khong tu tap, no gathering, and  Khai bao y te, health declaration.