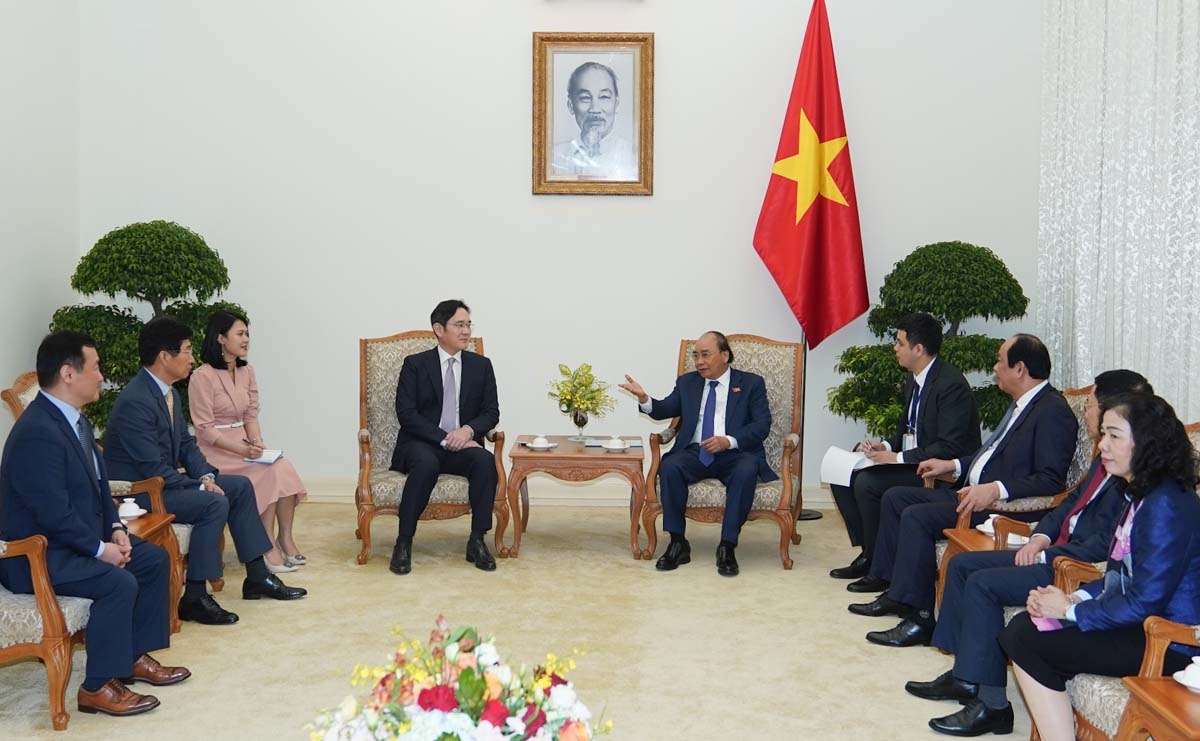 Receiving Samsung Electronics Vice Chairman Lee Jae-yong in Hanoi on October 20, Phuc congratulated the Republic of Korean conglomerate on its successful operation in Vietnam over the past 10 years, and stated that the Vietnamese Government will continue to work alongside Samsung in order to undertake strategic business and investment cooperation projects in the country in the 'win-win' spirit.
According to the Government leader, Vietnam has effectively controlled the COVID-10 pandemic and it is the sole economy in Southeast Asia that has achieved positive growth this year. In addition, the International Monetary Fund has recently forecast Vietnam is likely to emerge as the fourth largest economy in the region this year.
Joint cooperation projects will certainly reap great success on the back of the fine development of the Vietnam-RoK relationship and Vietnam's signing of many free trade agreements, including the EU-Vietnam Free Trade Agreement (EVFTA) and the Comprehensive and Progressive Agreement for Trans-Pacific Partnership (CPTPP), Phuc told the Samsung executive.
The Prime Minister expressed his hope Samsung will invest in a semiconductor manufacturing plant along with its existing mobile phone and home appliances production lines, so as to complete the group's closed production chain in Vietnam.
He also proposed Samsung continue to help local support industry businesses to further participate in Samsung's supply chain as well as its research and development (R&D) activities in Vietnam.
For his part, Samsung Electronics Vice Chairman Lee Jae-yong spoke highly of Vietnam's initial success in containing the COVID-10 pandemic, making it easier for the economy to get back on track. He thanked the Government, the Prime Minister, ministries, and localities of Vietnam for supporting the group in the past time, especially for allowing more than 3,000 Samsung experts and engineers to enter and work at its plants in Vietnam despite the COVID-19 impact.
If production units do not work in Vietnam, they would disrupt Samsung's production and supply chain globally, Lee stressed.
The Samsung executive assured his host that the group's R&D centre will be put into operation in 2022 and it will be then accommodating more than 3,000 engineers to become the group's key R&D stronghold globally.
Lee said he will visit the Samsung HCMC CE Complex (SEHC), a Samsung plant based Ho Chi Minh City, to check its performance and consider an expansion plan. He hoped the Prime Minister will continue facilitate the group's operation to make it more efficient in Vietnam,
PM Nguyen Xuan Phuc acknowledged Lee's proposal and said the Government has issued a resolution allowing the SEHC to be converted into an export processing enterprise to operate in the Ho Chi Minh City High-Tech Park. The move will help the company expand operation in Vietnam and enhance global competitiveness, he said.
Lee arrived in Vietnam for a business trip aimed at seeking support for the conglomerate's possible expansion plans in the country.