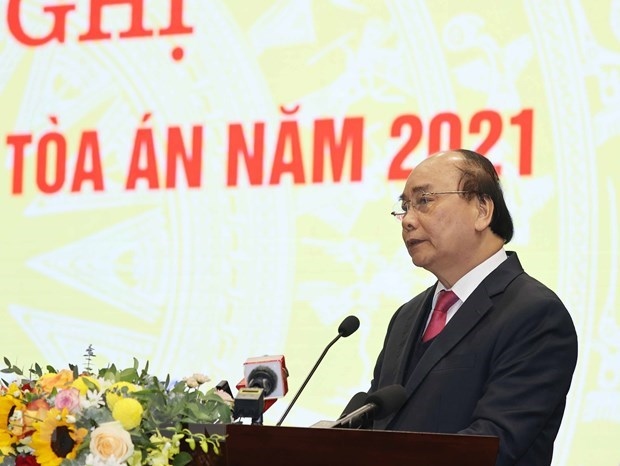 It reported that over the last five years, courts nationwide have handled more than 2.3 million cases, equivalent to 97.6% of the total received, with improved quality.

The rate of verdicts and judgements cancelled or amended every year is less than 1.5%, meeting the target set by the National Assembly. Courts have also tried a large number of serious and complex economic and corruption cases that attracted public attention, the SPC noted.

Appreciating their significant contributions to the country's achievements during the 2016-2020 tenure, Prime Minister Nguyen Xuan Phuc said that under the Party and State's resolutions on judicial reform, courts at all levels have proactively devised breakthrough solutions to improve judicial quality, carry out the judicial reform strategy, and fulfil assigned tasks.

The court sector has exercised judicial power and performed its functions and tasks well, thereby protecting justice, human rights, and the rights and legitimate interests of collectives and individuals, he said.

The Government leader added that the sector has brought major corruption cases to trial in a timely and stringent fashion while actively and effectively taking part in the fight against corruption, winning high evaluation from the Party, State, and people.

During the period, courts at all levels dealt with more than 1,100 corruption cases with 2,600 defendants, recovering trillions of Vietnamese dong and many assets for the State.

The PM also highlighted their efforts to enhance discipline among judges and staff and promote cooperation with international partners.

Pointing out certain shortcomings in courts' performance, he said the rate of cancelled or amended administrative judgements remains high; some verdicts and judgements are not sufficiently clear, hampering enforcement; or the time to settle many business cases or bankruptcy applications is still too long.

These problems have directly affected Vietnam's investment and business climate, he noted.

Regarding tasks for the time ahead, the PM asked court cadres to work out detailed orientations, targets, tasks, and solutions for a new judicial reform strategy so that the sector can better meet requirements in the new context.

He also requested they continue improving quality in handling cases, actively implement directions from the Central Steering Committee for Anti-Corruption, and accelerate the settlement of serious corruption cases and those attracting public attention.

Phuc told people's courts to strive to become a "stronghold of justice", thus meeting the Party and State's requirements and people's expectations.

At the teleconference, the Supreme People's Court also marked the sector's connection with the National E-Document Exchange Platform and the launch of the court sector's public services on the National Public Service Portal.