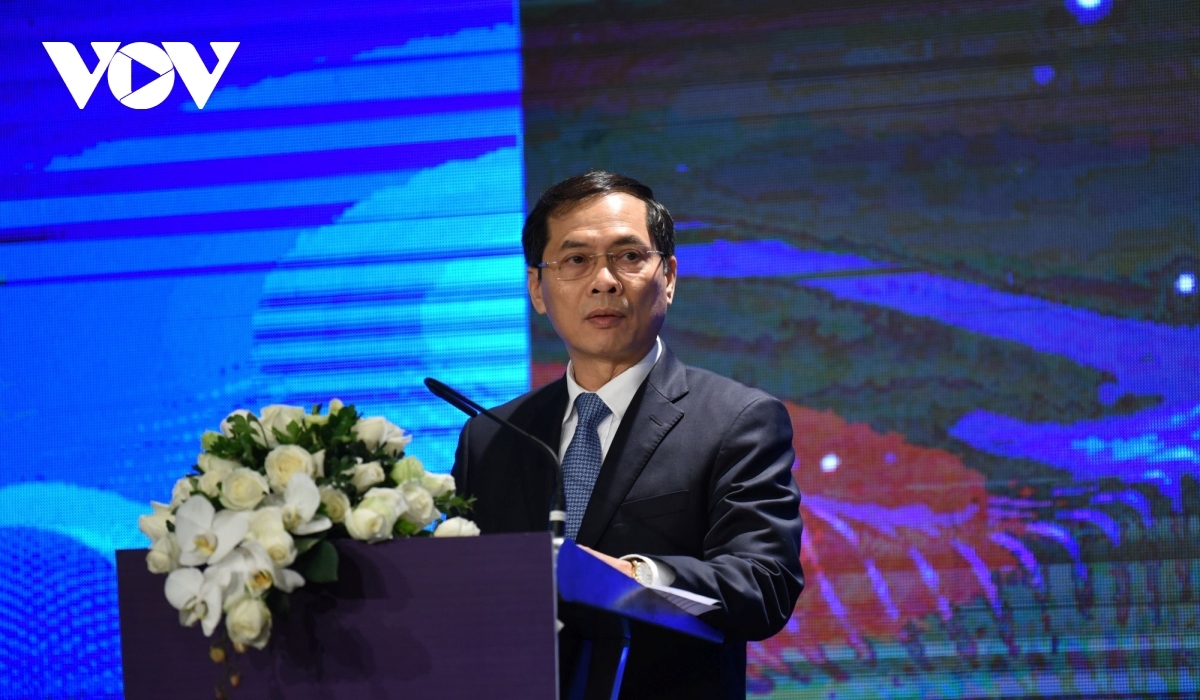 The 12th South China Sea International Conference is running with the theme of "Maintaining peace and cooperation through times of turbulence" opened on November 16 in Hanoi, with the Deputy Foreign Minister alongside ambassadors, representatives of foreign embassies, as well as many domestic and international experts and scholars in attendance.
The event was co-hosted by the Diplomatic Academy of Vietnam, the Foundation for East Sea Studies (FESS) and the Vietnam Lawyers Association (VLA), bringing together as many as 300 officials, scholars, and diplomats from the nation and foreign countries.
Furthermore, over 60 speakers from 30 nations across the world also attended the conference via an online platform.
In his address, Deputy Minister Son said that amid the complicated developments caused by the novel coronavirus (COVID-19) pandemic that have impacted the environment of peace and stability between respective countries, the East Sea can be viewed as a test on many important issues in terms of international relations. This includes the ability to maintain dialogue between countries for mutual benefits, the conduct of major countries, the protection of law, respect for international standards of conduct, the role of multilateral mechanisms to ease tensions, build trust, and promote co-operation towards settling conflicts.
Despite many efforts made to promote dialogue and co-operation, the situation in the East Sea still poses a range of unpredictable challenge to peace, stability, and co-operation throughout the region. For example, outstanding issues such as unilateral interpretation of international law that are inconsistent with the standards and interests of the international community pose significant challenges.
"This not only affects the foundations of peace and stability locally, but it also erodes the maritime order whilst hurting global peace and stability, especially amid stronger regional co-operation ties aimed at coping with challenges. Through co-operation mechanisms, Vietnam always promotes the spirit of dialogue, upholds multilateralism, respects international law and the United Nations Charter, and seeks a peaceful and equitable solution to international conflicts," Deputy Minister Son stressed.
In order to overcome these challenges, countries both inside and outside the region must work together to devise and implement effective measures, deepen dialogue, promote co-operation for mutual development, and jointly find peaceful solutions to differences and disputes. Deputy Minister Son therefore emphasized five major issues that could potentially prevent peace.
As such, an environment conducive to fostering co-operation must be built and maintained, whilst it can be viewed as necessary to actively prevent unwanted clashes at sea. Indeed, it is imperative to ramp up co-operation for the sake of economic recovery and mutual development.
Furthermore, it is essential to co-operate in the protection of natural resources, strengthen marine scientific research, and sustainable development in the East Sea. Finally, there nations must come together to relentlessly work towards the peaceful settlement of several overlapping claims in the East Sea.
At present, the country is ready to join other stakeholders in utilising the bilateral co-operation framework or other regional multilateral mechanisms, including those of ASEAN to promote dialogue, build trust, and expand co-operation. On that basis, the nation hopes that all parties will actively and creatively find solutions to narrow disagreements and peacefully control current disputes. This can be done through negotiations and other mechanisms in accordance with international law, the Vietnamese diplomat said.
The conference covers eight major sessions and one special session. The key topics poised to be discussed this year include an overall assessment of the situation in the South China amid a changing world, ASEAN's role with a post-2025 vision, East Sea related stories, and the role of the media. This is in addition to how to build codes of conduct to avoid collisions in the East Sea, fisheries and protection of fish resources, marine science research, and sustainable marine resources development.
The annual conference largely focuses on analysing the situation in the South China Sea, its relevance to peace, stability, and prosperity in the Indo-Pacific region, along with discussing measures to turn the East Sea into an area of connection and co-operation for mutual development as opposed to the trend of competition or confrontation.
Over the past decade, since the launch of its first version in 2009, the conference has become one of the most prominent forums which features leading experts. Indeed, the occasion gives them a platform to brainstorm a wide range of issues from maritime security, international law, marine-based economic development, and marine ecology, all of which are deemed important to regional peace, development, and environmental sustainability.