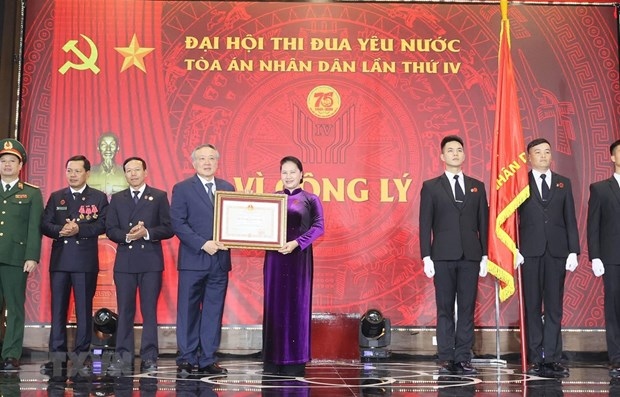 In her remarks at the congress, Ngan said that after 30 years of national reforms and 15 years of the Judicial Reform Strategy, the judicial sector has undertaken a number of innovative and breakthrough measures to fulfil its missions, particularly over the last tenure.

The number of cases handled grew 10% annually over the last several years against a backdrop of personnel streamlining, she said, adding that courts at all levels have settled more than 90% of cases, higher than the goal set by the National Assembly.

Courts have also closely coordinated with investigating agencies to fast-track trials and prosecute major cases involving corruption and serious breaches of economic management, with strict penalties handed down to those found to have abused their power to misappropriate State property. This demonstrates the Party and the State's strong determination to end corruption, she said.

All-level courts have also rigorously upheld and complied with constitutional principles in trials, while developing legal precedents in judicial practices in order to accelerate reforms and contribute to the consistent application of the law, the top legislator noted.

Ngan further outlined several shortcomings of all-level courts that need to be improved, notably breaches in time limits for criminal proceedings and miscarriages of justice.

She emphasised that the sector's patriotic emulation movements in the years to come should continue focusing on enhancing the quality of adjudication and preventing mistrials and miscarriages of justice.

The courts must ensure human rights are respected and eliminate miscarriages of justice in order to play a central role in the judicial system, she noted.