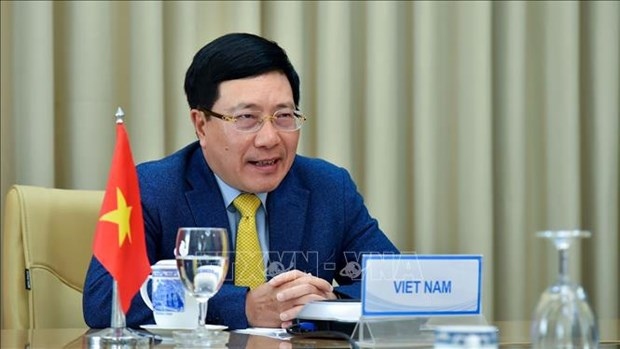 Deputy PM Minh briefed his counterpart on Vietnam's current situation and the outstanding results achieved by the 13th National Party Congress, and the response to the novel coronavirus (COVID-19) pandemic, and efforts to ensure further socio-economic development and continued social security.
The nation supports the efforts of the constitutional government of Venezuela to promote a political dialogue on the basis of respect for the Venezuelan Constitution and the aspirations of its citizens. Indeed, this can help to deal with difficulties in terms of greater socio-economic development in the current complicated context, he added.
In response, Minister Arreaza told the Deputy PM that Venezuela always attaches great importance to and wishes to further strengthen the comprehensive partnership between the two countries. He also offered congratulations on the success of the 13th Congress of the Communist Party of Vietnam (CPV), and expressed his great appreciation for Vietnam's efforts in responding to the COVID-19 pandemic, along with maintaining economic growth.
The two diplomats also agreed to maintain mechanisms aimed at bolstering co-operation between both sides, especially the Vietnam-Venezuela Intergovernmental Joint Committee and the political consultation between the two foreign ministries. This will be done whilst intensifying exchanges between each countries' ministries and sectors along with enhancing various business connections.
The pair also consented to promote trade and investment co-operation in areas of shared concern, such as agriculture, oil and gas, health, trade, culture, and sports and tourism, in addition to stepping up friendly associations' activities and people-to-people exchanges.
They were also in agreement on increasing exchanges with regard to international and regional issues that are of mutual concern and regular co-operation at multilateral forums to which both nations are members.