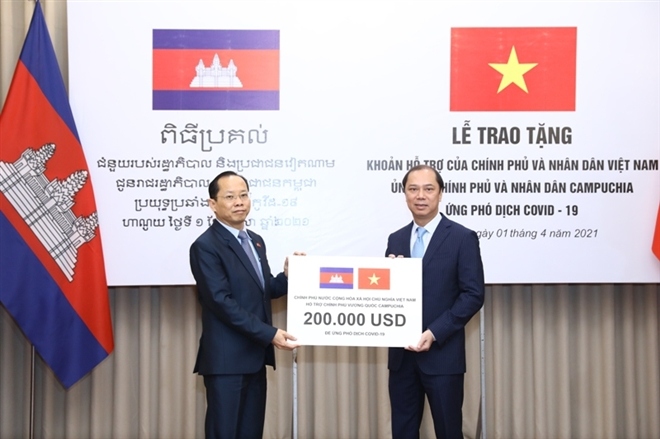 Deputy Foreign Minister of Vietnam Nguyen Quoc Dzung handed over the US$200,000 gift token to Cambodian Ambassador to Vietnam Chay Navuth at a ceremony in Hanoi on April 1.
Addressing the event, Dzung noted that Vietnam and Cambodia are the two neighbouring countries that have upheld the tradition of mutual support and assistance in difficulty.
Vietnam hopes that the US$200,000 support will contribute to helping the Government and people of Cambodia control the latest outbreak soon, stabilize the situation and continue its economic recovery and development, said Dzung.
He also expressed Vietnam's gratitude to the Government of Cambodia for caring about the Vietnamese community living, studying and working in the country, especially during the ongoing coronavirus outbreak.
The Deputy Minister appreciated Cambodia's launch of its COVID-19 vaccination campaign for foreign diplomats, including officials and staff of Vietnamese representative missions in Cambodia.
Ambassador Chay Navuth thanked the Vietnamese Government for the gift, which he said will contribute to the COVID-19 fight in the country.
He also praised Vietnam's initial success in bringing the COVID-19 disease under control as well as in carrying out the dual goal of epidemic prevention and economic recovery.
In April 2020, Vietnam presented Cambodia medical equipment including protective clothing, medical and antibacterial masks, COVID-19 test kits worth VND7 billion (approximately US$300,000).