Located at No.18 Hoang Quoc Viet street in Hanoi, the Vietnam National Museum of Nature covers 300 square meters. On display are 1,400 items describing the life cycles of mammals, retiles, amphibians, insects, and plants which were present in Vietnam millions of years ago and recently discovered.
Opened in 2014, the museum is a great source of information on Vietnam's flora and fauna. Nguyen Thi Ha of Tran Hung Dao high school in Hanoi said, "I'm learning a lot during my trip to the museum. I can see the diagrams and fossils with my own eyes. I'm really impressed by the specimens on display."
The Vietnam National Museum of Nature takes visitors on trip back to ancient times, of which the species are categorized.
Visitor Nguyen Van Nam of Hanoi elaborated that "The exhibition is lively and thrilling. The exhibits demonstrate the knowledge that pupils learn at school so that they remember easily." 
The exhibition of the history of life features warm light and colors, very pleasing to the eyes. On display are fossils of the four geological development periods on Earth: the pre-Cambrian period (4,500 - 541 million years ago), the Mesozoic (541 - 252 million years ago), the Mesozoic (252 - 66 million years ago) and the Great Neoplasm (66 million years to present day).
The exhibition of animals features bone specimens of frogs, carp, king cobras, tigers, ostrichs, and pig-tailed monkeys, precise to the smallest details. The collection of insect exhibits at the Vietnam National Museum is the biggest of its kind in Vietnam, grouped into beetles, dragonflies, cicadas, mantis, and stick insects, some of them lived 400 million years ago.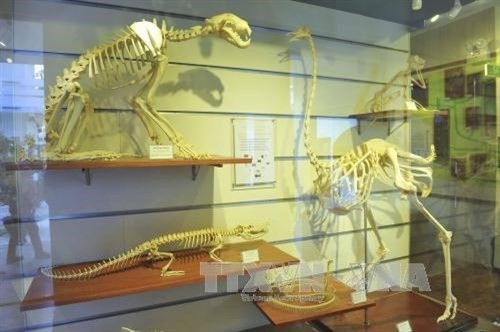 Nguyen Thanh Tuan of Cau Giay Secondary School in Hanoi said, "I have never seen such butterflies in real life. They are incredibly colorful and totally different from what I can imagine. My visit to the museum today is really helping enrich my knowledge."
The exhibition of marine creatures features corals, shellfish, amphibians, and reptiles that are extinct. A panel is erected at each exhibition providing a short description.
Visitors to the Vietnam National Museum of Nature can learn to create specimens, paint the animals, and watch 3D movies about the evolution of humans, fish, dinosaurs, and insects and how the universe and the ocean have changed.
Vu Van Lien, Vice Director of the Vietnam National Museum of Nature, said, "Visitors are introduced to the formation of life. Here we teach them about the nature and infuse their love for nature. Everyone is responsible for protecting the environment."
Entrance to the Vietnam National Museum of Nature is free from Thursday to Sunday.