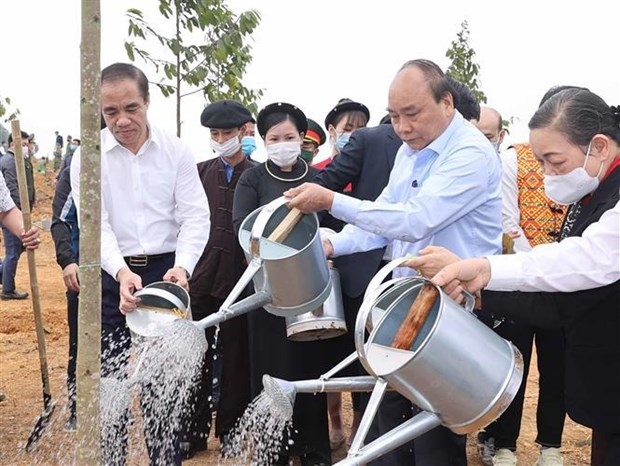 In his remarks, Phuc highlighted Tuyen Quang's advantages for forestry development, saying over the past years, the province has made outstanding performance in forestation, forest protection and forestry-based economic development in tandem with new-style rural area building.

Environmental protection is the responsibility of all people, he said, adding that tree planting and preservation is one of the practical activities to ensure sustainable development.

The Government has joined hands with localities nationwide in this regard, aiming to maintain forest coverage at 42%, and raise the export revenue of timber and forestry products to at least US$14 billion this year, and over US$20 billion in 2025, the PM continued.

He called on local administrations and people to respond to the tree planting festival initiated by President Ho Chi Minh in the spring of 1960.

The PM assigned the Ministry of Agriculture and Rural Development to assist the province in implementing relevant programmes and projects, and suggested Tuyen Quang combine forestation and forest preservation with eco-tourism.

The same day, the PM attended a ceremony announcing Tuyen Quang city as a second-tier urban area, a subordinate administrative unit of Tuyen Quang province.