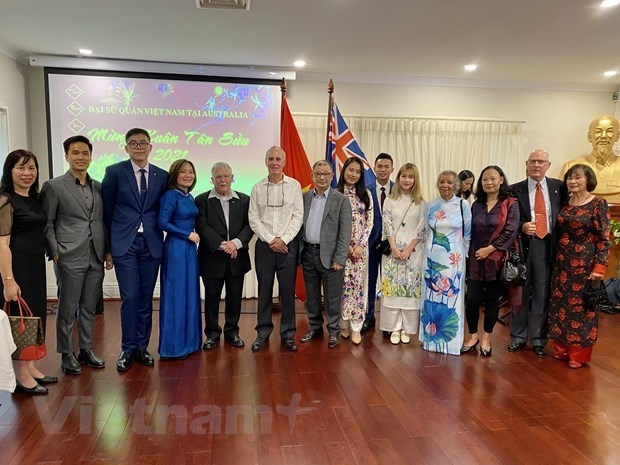 Talking via the format of videoconference, Vietnamese Ambassador to Australia Nguyen Tat Thanh affirmed that the Vietnamese Embassy and Consulate Generals will continue to act as "common houses" and partner with the overseas Vietnamese (OVs) in the country.
He said with delight that Vietnam and Australia are carrying out projects within the framework of the strategic partnership on the pillars of politics, economy and science-technology. The two countries have increasingly understood, trusted and respected each other, Thanh said.
The ambassador expressed his belief that bilateral ties will keep growing on the back of important policies recently adopted at the 13th National Congress of the Communist Party of Vietnam.
According to the diplomat, Vietnam's vision to become a developed industrialised nation by 2045 will be a turning point for national development and bring trust to all Vietnamese citizens at home and abroad.
Member of the Vietnam Fatherland Front Central Committee and Chairman of the Vietnamese Business Association in Australia Tran Ba Phuc said OVs are delighted with Vietnam's socio-economic achievements over the past five years, as well as the strong development of Vietnam – Australia ties.
Talking online with OVs in Italy, the Republic of Cyprus and the Republic of Malta, Vietnamese Ambassador Nguyen Thi Bich Hue said Vietnam became a spotlight in the region and the world in the fight against the COVID-19 pandemic last year, with its economic growth among the world's highest.
Vietnamese Ambassador Nguyen Thi Bich Hue speaks at the event (Photo: VNA)
She added that Vietnam well performed its role as ASEAN Chair and a non-permanent member of the United Nations Security Council in 2020 with many initiatives being highly welcomed, thus improving its position on the international arena.
At the recently-closed 13th National Party Congress, a new leadership for the next five years was elected and orientations for national development in the coming period were outlined, she said.
Hue also hailed the Vietnamese community in Italy, Cyprus and Malta for offering support to local residents hit by flooding in Vietnam's central region last year.
The diplomat also affirmed the determination of Vietnamese authorities at all levels in the fight against the pandemic.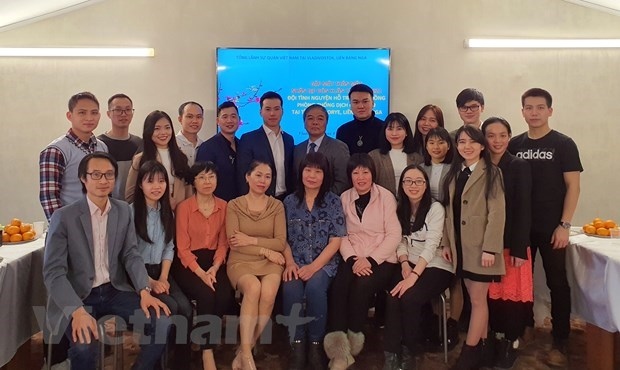 In Russia, Vietnamese Consul General Nguyen Hoang Viet met a team of volunteers who have supported the community in the fight against COVID-19 in Primorye province. They are mainly students of the Far Eastern Federal University and the Nevelskoy Maritime State University.
Since the pandemic broke out, about 400 Vietnamese people in the region have tested positive for coronavirus SARS-CoV-2, including two deaths.
With the support of the volunteers, almost infected cases in Primorye have been given access to medical services, contributing to protecting their health and lives.