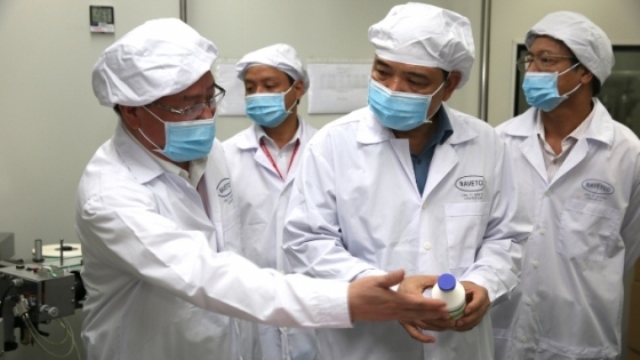 The Ministry of Agriculture and Rural Development (MARD) reported that during the 28-day clinical trial, vaccinated pigs were still thriving while unvaccinated pigs in the pathogen area died completely after just over a week.
The MARD said the vaccine show positive results not only in the laboratory but also in the natural environment. This is considered an important step toward producing a ASF vaccine in Vietnam in recent times.
According to the MARD, the newly developed vaccine was tested on both hybrid and indigenous pig breeds, and it only required 14 days of injection to be effective, instead of the previous 30 days.
A representative of the National Veterinary Joint Stock Company (Navetco) said that the ASF vaccine was researched on the ASF I177L virus isolated by the US and transferred to Vietnam. To date, Navetco has produced 4 batches of the vaccine numbering about 100,000 doses.
MARD Deputy Minister Phung Duc Tien said that the ministry has set up an independent scientific council to test and evaluate the effectiveness of the vaccine. If successful, Vietnam is likely to market this vaccine in the second quarter of 2021 and become the first country in the world to commercialize the ASF vaccine.
Since the African swine fever was first detected in Vietnam in February 2019, it has then spread to all 63 cities and provinces in the country, and kill around six million pigs have been killed, or one fifth of the pig population.
The African swine fever virus is shed in blood, saliva, tears, nasal secretions, urine, feces, and secretions from the animal's genital tract. Pigs can thus get infected by mere contact with many different infected sources, mainly other infected pigs, pork and other pig-derived products, but also any other contaminated objects, according to the Food and Agriculture Organization.